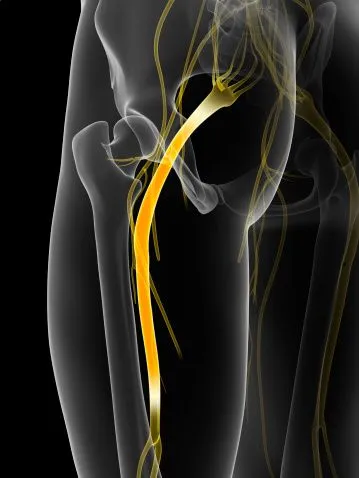 Need sciatica treatment in Santa Rosa? Bell Family Chiropractic specializes in honest and affordable chiropractic care for your whole family. Open five days a week, Dr. Scott Bell, a chiropractor with over 13 years of experience, is available to design a sciatica treatment plan specific to your chiropractic care needs. Bell Family Chiropractic, located in Santa Rosa, has encountered numerous patients faced with the problem of sciatica. We have developed sciatica treatment plans specific to helping each patient reduce their pain level and discomfort.
Named after the sciatic nerve, sciatica is known for causing numbness and weakness in the hip, buttocks, leg, calf, and foot. The sciatic nerve is longest and largest nerve in your entire body. It runs from an area in your spine, near your pelvis, and down each leg. Typically, it can be as large your thumb. If an area of the large sciatic nerve is pinched, irritated, or swollen, you will develop sciatica. Frequently, patients develop sciatica when the lower spine has become misaligned, resulting in a pinched sciatic nerve.
Part of sciatica treatment at Bell Family Chiropractic is having a highly trained chiropractic examine and pinpoint the exact source of nerve damage. Our chiropractor, Dr. Scott Bell will develop a sciatica treatment plan specific to your needs, while also incorporating physical therapy, lifestyle advice, nutritional counseling, and massage therapy into your healing process. The sciatica treatment process is entirely interactive, so you are able to express your concerns about any part of treatment at any time.
Bell Family Chiropractic, located in Santa Rosa, specializes in chiropractic care for the whole family. No matter the age or health concern, we can design a Sciatica treatment plan specific to your needs. Dr. Scott Bell's goal, as an experienced chiropractor, is to have your entire family reach its peak health and physical potential. Contact Bell Family Chiropractic at (707) 526-1928 to schedule an appointment today.